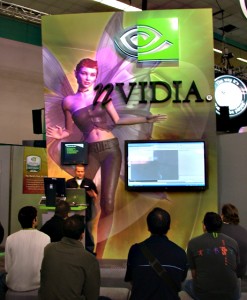 The Game Developers Conference (GDC) is an important industry event that blends the art of game design with the business of getting those games published, and also a place where new technologies and game development tools are unveiled to the development community.
We have put up below some coverage pictures of the GDC with pictures from various IHV stands : XGI, nVidia, ATI, S3 Graphics, AMD, Intel, Nokia and Sony.
Let's start off with XGI's stand – XGI was showcasing their range of Volari boards at GDC
The game Breed was demoed on the Volari V8 Ultra card
Here's a closeup picture of Breed on Volari V8
Halo was also being displayed on Volari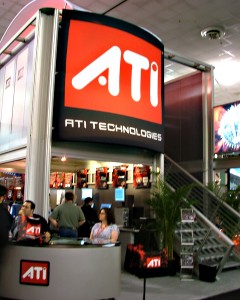 Halo running on a Volari Duo V8 Ultra
nVidia had some conferences going on at GDC
Quadro FX
Laptops at nVidia's stand
Handhelds using the GoForce
ATI's booth
Lock On : Modern Air Combat presentation at ATI's booth
S3 Graphics' booth
The new Athlon64 FX processor is being showcased at AMD's booth
Far Cry on Athlon 64
Intel's booth
The Nokia N-GAGE was also showcased at GDC
Tiger Woods PGA Tour for N-Gage was one of the games displayed at GDC
Closeup picture of the N-Gage
Sony presenting their Playstation 2 and PSP consoles
A big thanks goes to WW once again for making this article possible.