XGI has launched their new embedded graphics chipsets for multimedia applications.
- The Volari XP10 features PCI Express X1/X8/X16 interface to support the next generation bus specification. In addition, it has an embedded 3D and video engine which enhances next generation multimedia applications. With XGI's open source policy, you have your own freedom to decide what you want to design, what you want to make, in the way you want to do.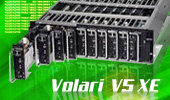 - Built in with powerful 3D processing engine and support for AGP/PCI bus, the the Volari V5XE is designed for multi-media applications with intensive 3D requirements. Supporting the latest DirectX 9.0 and OpenGL 1.4 specifications and featuring a flexible source code release strategy, Volari V5XE is the ideal candidate for niche 3D applications.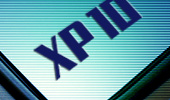 - Built in with latest 3D processing engines with HDTV output upto 720p/1080i, Volari V3XE has been broadly used in multimedia applications with various kind of processors such as RISC, ARM and the standard x86 CPU.
- Finally, the Volari Z9 is the graphics chipset with the lowest power requirement in the world, with a power level of about 1-1.5 W. It also provides VGA display output up to 1600×1200. With DVO interface, developers can easily find a transmitter to support TMDS and LVDS output.