A number of applications aimed at the 1U server space do not require more than one processor: file serving, small to medium-scale storage, and firewall protection are just some examples. To help meet demands for this market, Tyan is introducing the Tomcat i7230B (S5161), a 1U-optimized rackmount-ready server board with dual-core Intel® Pentium® 4 support, virtualization support, and rich features.
The Tomcat i7230B uses the Intel® E7230 "Mukilteo" chipset with an optimized 1U layout design on all components to allow for improved airflow over all parts of the motherboard. In addition, Tyan has integrated the following server-class features into the Tomcat i7230B:
- 1U-optimized layout for best airflow and thermal management in rackmount environment
- Support for Intel Pentium 4 LGA775 processors with Hyper-Threading, and Pentium D processors (dual-core support)
- Supports up to 8GB of DDR2-533/667 unbuffered memory with ECC
-Two Gigabit Ethernet and one 10/100 LAN ports – excellent flexibility for any network
- (1) Specialized PCI-X/e slot and one TARO™ add-on SO-DIMM socket
- Serial ATA-2 with RAID levels supported (0, 1)
- Built-in 16MB XGI Volari™ Z7 video controller with external video port
- Remote management features including IPMI 2.0, all in an ATX form factor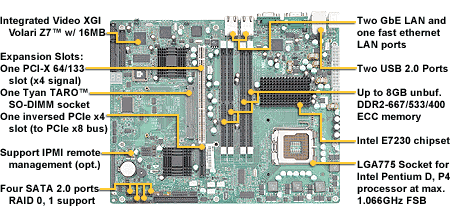 "Supporting multi-core technology and general server applications in a 1U environment are essential to many businesses today," said Danny Hsu, VP of Sales and Marketing at Tyan Computer Corporation. "With the introduction of the Tomcat i7230B (S5161), many customers will find the performance of Intel's multi-core technology and the wealth of integrated features to offer an incredible combination of choices to meet just about any general rackmount server needs."
The Tomcat i7230B (S5161) is currently sampling to select customers, and will reach mass production levels towards mid Q1'06.