Just saw this at OC Workbench :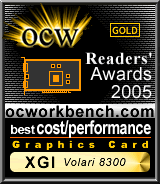 This is the 4th year we are running this annual online event. The Readers Awards was created in 2001 to commend on the best of the year. Every year, we run a nomination whereby users can submit the name of the product to be considered for the respective award.
XGI received the 'Gold' award from OCW in the "Best Cost/Performance Graphic card" category!
XGI Volari 8300 is another surprise entry which got the top spot. It's a entry-level graphics chip from XGI, with great DVD decoding done by hardware.
As a sidenote, it seems the duo nVidia/ULi got the most votes in the chipset category, whereas Asrock dominates the motherboards' categories.