ADVANTECH Australia Pty Ltd is releasing two new industrial-grade RoHS compliant AGP and PCI graphics cards that deliver an optimal combination of reliability, long life product support, and an excellent performance standard.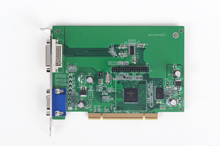 The PCA-5630 AGP graphics card, with XGI Volari V3XE GPU and 128 MB DDR SDRAM memory, supports the latest multimedia 3D, HDTV and output for dual display. Adopting XGI Volari Z9s GPU with 32 MB DDR2 SDRAM onboard, the PCA-5612 PCI graphics card provides a price-wise graphics solution which features the low power requirement less than 1.5 W. and supports both VGA and DVI output.
The cards are intended to drive several power-conscious graphical applications, including industrial automation, HMI (Human Machine Interface), POS (Point of Sales), TV Wall displays and many more commercial and technical applications.
The PCA-5630 AGP graphics card brings multimedia power to industrial and harsh environment applications that require high quality video and graphical performance.
The PCA-5630′s 32/64-bit DDR memory bandwidth, 3D processing engine and S-video/Composite port supports HDTV output up to 720p/1080i. The V3XE GPU includes an MPEG-2 Video Decoder and Video Enhancer, freeing the CPU for improved system performance. Dual display supports CRT resolutions up to 2048 x 1536 at 85Hz and CRT2 (DVI + Adapter) up to 1600 x 1200 at 60Hz. DVI output supports a single link TMDS for superior UXGA resolution (1600 x 1200 at 60Hz). OS support includes Microsoft Windows XP/2K and Linux.
The PCA-5612 PCI graphics card is a market leader for a combination of value, performance and low power operation. The Z9s is one of the lowest power consuming GPUs on the market, with a power level of about 1 ~ 1.5 W. The PCA-5612′s 16-bit DDR2 memory supports VGA, DVI and mirror mode dual displays.
CRT resolution up to 1600 x 1200 at 60Hz as well as DVI for single link TMDS up to UXGA resolution (1600 x 1200 at 60Hz) are supported. Microsoft Windows XP/2K and Linux/Unix/FreeBSD OSs are also included in the OS support.
Both graphical cards comply with RoHS specifications, and support fanless operation up to 60° C (140° F). With proven components and strict revision control over the entire product life cycle, these boards bring a combination of reliability and superior performance that can fulfill the most demanding applications. In addition, these cards can perfectly complement the complete line of Advantech industrial motherboards.
More information is available at Advantech's website:
PCA-5612 (based on the Z9 GPU)
PCA-5630 (based on the V3XE GPU)