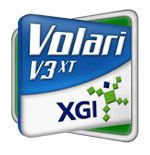 Many of us get excited when hearing about cutting edge graphics cards, but let's face it: performance and whiz bang features are pretty nice, but the majority of consumers simply will not swallow the high price tag that comes with it. The sales volume are actuallly in the low end region of the market, and that is why cards like the Radeon 9200 SE or GeforceMX still sell very well though they lack many important features.
Today we take a look at what XGI has to offer for the value market. The Volari V3 XT sports some pretty nifty features such as full DirectX 9 and native HDTV support (!!), making it rather unique as to my knowledge no other value card fully supports HDTV.
The Volari V3 XT card comes equipped with 128MB of DDR memory. The V3XT GPU is clocked at 250Mhz. Let's take a look first at the specifications of the card then get right into it..
Specifications
Blazing-fast PCI Bus Interface
- 32-bit PCI local bus standard Revision 2.2 compliant
- True AGP2.0 & AGP3.0 Compliant configuration setting
- Hardware auto detect for AGP1.0, AGP2.0 or AGP3.0 mode support
Extreme High performance 256-bit 3D engine
- High order surface tessellation
- Optimized hardware geometry transform/lighting/setup engine
- Compatible with Direct3D 9.0 Vertex Shader ver. 2.0
- Fully compliant with Direct3D 9.0 Pixel Shader ver. 2.0
- 2 sets of high performance pixel rendering pipelines
- Supports Bump Mapping, Mipmapped Cubic Mapping and Volume Texture supports flat and Gouraud shading
- Supports 2-side stencil
- 2X/4X full scene anti-aliasing(FSAA)
Ultimate Performance 2D Engine
- Hardware command queue
- High-speed Direct Draw Accelerator
- Hardware GDI 2000 Accelerator
- Source read-buffer to minimize engine wait-state
- Built-in destination read-buffer to minimize engine wait-state
High Definition TV-OUT Solution with XV301PAL and NTSC Systems – Composite, S-Video, and Component RGB Output Signals
- Macrovision Copy Protection Process Rev. 7.1.L1
- HDTV 480i/480p/1080i/720p YPbPr Output Signals
- A single link TMDS transmitter with excellent scaling capability for TFT LCD panel display
MPEG-2 Video Decoder
- MPEG-2 MP@ML standards compliant
- Supports up to 20 Mbit/sec bit rate decoding
- True hardware VCD, DVD and HDTV decoding
Video Accelerator
- YUV-to-RGB color space conversion
- Bi-linear video interpolation with integer increments of 1/2048
- Complete graphics and video overlay function
- Hardware video decoder interface
- Independent VBI capture
- Supports DVD sub-picture playback overlay
- Built-in independent Gamma correction RAM
Proprietary Cipher Video Processor
- 5 fields per-pixel motion detection de-interlace function, video sources from MPEG decoder, Video capture and AVI interfaces
- Down scaling function and scaling vector as 1/2, 1/4
- Next generation de-interlaced and 1/2 down scaling function
Display Memory Interface
Supports DDR SDRAM upto 128MBytes memory
High Integration
- 24-bit true-color RAMDAC up to 400 MHz pixel clock
- Built-in VIP interface
- VESA Plug & Display for PanelLink Interface
- Built-in Thermal Diode for GPU Security-Update
Miscellaneous
- Supports 32K/64K/128K Bytes ROM decoding
- Supports 20MHz SPI ROM interface 720-balls 31mm x 31mm PBGA package
The Volari V3 XT certainly seems to have some very interesting features (namely full HDTV support!), especially for a mainstream card (the card should cost about $50 USD only).
A good point to note is that the Volari V3 XT is the only mainstream card to feature a built-in thermal diode, ensuring the card runs properly at all times. As far as I know, ATI and nVidia only offer this feature on their high end solutions.
We'll now go more into detail of the main features of the Volari V3 XT
Features
True Hardware DirectX9  
TruShader™ 2.1 Engine
TruShader™ Engine takes vertex and pixel shading to a new level of realism. With Trushader technology, 3D environments come alive with lush renderings that make your 3D game scene with haunting realism. Users can enjoy advantage of programmable DirectX9 effects that will turn your display imagery into a true work of art.
The XGI Volari V3 XT offers full DirectX 9 support, giving you better support for all the latest games. Needless to say that you are going to get the best performance and image quality from a card that offers true DirectX 9 support, compared to competing solutions which do not offer such support.
V-Drive
Not all processing environments are created equal. The blistering demands imposed by full screen 3D applications will tax your GPU for all it's worth, leaving weaker processors in the dust. When it's time to pour on the muscle, V-Drive is like a short of pure adrenaline in the heat of the battle. V-Drive™ ratchets up processing power in perfectly timed response to computational demands, effortlessly delivering full frame graphics with flawless execution. Shift in to V-Drive™ and experience the ultimate in high speed performance.
V-Drive gives you the ability to get the absolute most out of your graphics card through an automatic overclocking of the card. This enables you to get the most performance out of your graphics card, without any hassle. While we're talking about overclocking, it is important to note that the drivers have their own little setting for overclocking under the 3D settings area : in other words, you don't have to go hunting around for a tool like Powerstrip to overclock manually.
Overclocking in action (the V-Drive button is located on the same window)
The XGI Volari V3 XT comes with quite a nice heatsink cooling the GPU without any noise, making the card silent. This makes the card a very good choice for those of you looking for a cool and quiet graphics card. Not to mention the fact that the card is pretty small in size.
On Screen Performance
Cipher™ Video Processor
Volari™ V3XT processors feature XGI's legendary Cipher™ video processor. Leveraging this advanced de-interlacing technology means video files play with a smooth, flicker-free and fluid motion that amazes even industry professionals. And unlike competing video processors, the Cipher™ video processor converts both incoming and outgoing video feeds, ensuring that all your videos are displayed with the highest possible on-screen quality.
ColorAmp™ Engine
The Volari™ V3XT processor also feature XGI's cutting-edge ColorAmp™ Engine – driven by a proprietary algorithm that analyzes on-screen environments and automatically optimizes color intensity and gamma levels to provide the most accurate on-screen color and display brightness.
Intelli-Vision™ Engine
The Volari™ V3XT processor's proprietary Intelli-Vision™ Engine makes calculated adjustments to display brightness when entering 3D mode, providing clearer and sharper graphics display performance ideal for today's 3D gaming.
Next to being a value DirectX9 solution, some high-quality video features have been included in the Volari V3 XT. The 2D image quality of the Volari V3 XT is surprsingly crisp and clear, and video playback is excellent.
XGI's ColorAmp Engine is an on-the-fly color and brightness optimizer for 3D and 2D, providing extra saturation for onscreen colours and brightening 3D images to increase viewability. This is done through a set of custom settings for various sources, such as DVDs and games. Of course, user customization is possible as well.
The Volari V3 XT features the Cipher Video Processor which uses an advanced proprietary pixel-based deinterlacing algorithm for rendering high-quality video.
Even more impressive is the complete HDTV support, up to 1080i/720p! You can even use the TV-Out of the card for HDTV as the TV-OUT supports HDTV resolutions. and benefit from the high quality This is great as this is the only card in the $50 USD range with HDTV support! Hopefully this will help HDTV to be adopted more massively. We so need HDTV support here in Europe…
Reactor™ Unified Driver
Harness the superior power of the any Volari™ V3XT processor with XGI's Reactor™ unified driver. Packed with useful features and fully compatible with Direct3D and OpenGL APIs, the Reactor™ unified driver allows an advanced level of processor-tuning that easily meets the demands of today's avid gamers. The Reactor™ unified driver works across all graphics boards incorporating Volari™ V3XT processors, making driver management virtually effortless.
It is a good surprise to see that XGI has adopted a unified driver system : no matter which XGI card you have, you won't run into any problems hunting down the right driver as there is only one. Also, if you already own an XGI card, you simply need to take out the card and pop in the new card without having to go through installation again. How easy can things get? This is definitely a bonus for the consumer and reseller as it reduces customer confusion.
The Reactor drivers offer much more than just an excellent gaming
experience; they also include a host of other features within the driver which maximize the use of XGI graphics boards. The following features are included in the latest Reactor driver suite:
PowerManager – PowerManager provides real-time GPU temperature detection and monitoring : this allows you to check at a glance the temperature of the GPU as well as the voltage of the GPU and the memory. Rotech – Rotech (which stands for "Rotation Technology") offers you the ability to rotate your desktop with your monitor. This is interesting for those of you who own a monitor which can be tilted.
Desktop Plus – Desktop Plus allows you to customize multiple virtual desktops. You can add or delete desktops as well as customize display settings for each desktop. Each desktop also can have its own shortcuts and applications. Needless to say that this can have some interesting practical use : you can for instance create a "Work" Desktop and a "Enterainment" Desktop, and easily switch from one to the other by a quick click (for example when the boss is coming!!! Oops, did I just say that?)
Navigator – Navigator unleashes the possibilities of small monitors : it allows you to zoom in on any part of the screen you want. It shows the position of the current physical screen in the entire virtual desktop area. You can also use this application to move the physical screen to wherever you wish.
Let's take a look now at the performance of the Volari V3 XT.
Testbed Setup
Here are the specs of the test rig:
Intel Pentium4 CPU @ 3.2 GHz (HT Enabled)
512MB DDR-400 memory
Windows XP Pro and DirectX9.0c
XGI Volari V3XT 128 MB DDR
ATI Radeon 9200 SE 128 MB DDR
A note on testing: the only card available from ATI which is about the same price range is the Radeon 9200 SE, that is why the card was chosen to compare with the Volari V3 XT. The Geforce MX 4000 is in the same price range as the Volari V3 XT, but its performance is much lower than both the V3 XT and the 9200 SE. Also, the Geforce MX 4000 lacks DirectX 8 support (no pixel and vertex shader support).
All tests were run twice.
Performance Testing Results
In 3D Mark 2003 and Aquamark 3, the card shows its power thanks to its DirectX 9 support and outperforms the slightly more expensive Radeon 9200 SE.
In 3D Mark 2001 SE, the card is neck to neck with the ATI Radeon 9200 SE. The Final Fantasy Benchmark and X2-The Threat result shows the Volari V3 XT falling slightly behind the Radeon 9200 SE only.
The gap between the two cards seems to widen a bit in OpenGL, as shown in the Quake 3, RTCW and Enemy Territory. It seems the Volari V3 XT could use some extra driver tweaking, especially for the OpenGL driver, to catch up with the 9200 SE.
Final thoughts
The Volari V3 XT is a very interesting piece of hardware for the maistream/value market. It may not be the fastest mainstream card available, but then again I don't think it makes much sense to look for the "fastest card" when looking under $50 USD / 50 euros price range. Those looking out for pure performance would be looking at higher end models. Nevertheless, the Volari V3 XT performance is good, and it came very close to the 9200 SE.
A point which is very important is image quality, and the Volari V3 XT did not disappoint. Image quality is excellent, 2D and videos are surprisingly clear and sharp even in high resolutions, slightly better (clearer and crispier) than the 9200 SE in my opinion.
Video playblack certainly is one of the strong points of the Volari V3 XT, not to mention the V3 XT has an ace up its sleeve which makes it a very tempting option for home theater PCs : full HDTV support.
As we mentionned, the Volari V3 XT is also able to display HDTV resolutions through the card's TV-Out. This explains why the card's TV-Out quality is simply excellent and far better than any competing solution.
Given that ATI's HDTV component adapter required for HDTV costs $30 USD all by itself, HDTV display could become Volari's domain. The home theater crowd may also appreciate Volari's shader-powered video engine. I certainly did as it greatly enhanced video playback quality.
At the end of the day, XGI has produced a very capable and competitive value offering in the Volari V3 XT. It may not be the fastest low-end gamer on the block, but is certainly the only one that'll do HDTV display right out of the box.