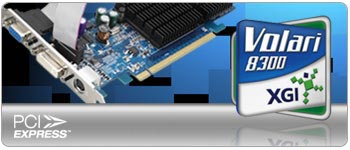 The Volari 8300 is XGI's PCI-Express solution for the value market and boasts a number of attractive features going well beyond competing solutions.
XGI has strived to set the Volari 8300 apart from any card in its price range, and many cards considerably more expensive, by including various video enhancing features that are usually only available in high-end competing products. As a result, the Volari 8300 includes embedded hardware features which are not present in competing products, such as high quality scaling, 3:2 pull-down correction and inverse telecine.
Volari 8300 runs at 300 MHz with its memory running at 600 MHz using a 64-bit interface, just like the Radeon X300 SE HyperMemory and many versions of the GeForce 6200 TurboCache.
Below are some pictures taken from our board sample. This engineering sample uses a "normal-sized" PCB and comes with a small cooling system whereas the final version is expected to be entirely fanless and in low profile format (half the size).
Main features of the Volari 8300
- TruShader™ SE Graphics Engine
According to the specifications, the chip features two pixel pipelines (2×2 configuration) each with 8 texel samples, 4 Pixel Shaders units, 2 vertex units and 8 depth/stencil outputs. The Volari 8300 graphics processor supports extended DirectX 9.0 specifications with features such as MET/MRT, up to FP32 texture formats, non power of 2 textures and 8Kx8K texture size support.
Interestingly, the TruShader engine works with 32-bit precision throughout the pipeline thanks to its hardware 32 bit floating color buffer and support for 32 bit floating texture formats. This becomes especially important when we start using effects such as subsurface scattering, soft shadows and global illumination since developers can now apply more translucent effects.
- TrueVideo Engine
XGI has strived to enhance video playback quality for a cinematic home entertainment experience. The Volari 8300 has an integrated hardware video processor, the TrueVideo engine, with native support for the following features in hardware:
• State-of-the-art pixel based motion and edge adaptive de-interlace (5 Field-based Motion & Edge Adaptive)
• Inverse 3:2 pull down
• Adaptive edge smoothing
• Overdrive technology for Ultra Clear TFT LCD image quality
• HDTV resolution up to 1280x720p
• Provides cubical interpolation with edge recovery
• Hardware Motion Compensation and IDCT
• 10 bit high precision gamma correction
The Volari 8300 uses a third generation advanced de-interlacing (five field based motion and edge adaptive de-interlacing). Edge enhancement improvement is supported, and is 7×2 pixel window based. Basically, all these features make videos look much sharper, clearer, without any jagged lines, and produce a better quality image.
As for outputs, the Volari 8300 supports a wide array of options ranging from the traditional S-Video to HDTV resolutions up to 720P/1080i. It is important to point out that the Volari 8300 can support multiple displays at the same time. Yes, you read that right, it is possible to connect up to three displays (two computer monitors and a television) at the same time!
- CoolPower II Management
CoolPower is XGI's unique power management technology originating from their partnership with top OEM notebook customers and significantly reduces both active and standby power consumption.
CoolPower employs a combination of software and hardware techniques which permit the end-user to select either highest performance or longest battery life while running their applications of interest. Below are the main features of the CoolPower technology :
• Unified software & hardware architecture for power management
• Dynamic clock gating, frequency scaling, work load balancing
• Supports INTEL-defined Device Performance States (DPS)
• Supports PCI Express Active State Power Management (ASPM)
• Optional battery optimizer under user control
Video playback
As we mentionned previously, the 8300 is not meant to be a card for gaming, it is rather designed to provide high quality HD playback. As a result, the quality of the TV output is one of the 8300′s strong points, and the card supports HDTV outputs 720P and 1080i. Needless to say that the 8300 can also output through the "ordinary" S-Video/Composite cables.
XGI took great care to make sure that the 8300 offers the best video playback quality, and they did so by implementing into the hardware interesting new features that you don't see in competing cards (actually, as far as I can tell, XGI is the only existing card to use a 5-field based motion and edge adaptive de-interlacing).
These fuzzy lines appear in videos with objects in motion. However, the Volari 8300 takes care of these lines and makes the edges clearer and more pleasant to see
On the Faroudja demo disc, the 8300 produced outstanding high-definition pictures : the waving flag's stripes are very smooth and clear. I was also impressed with the red stripes' accurate crimson quality and the absence of "jaggies", a far cry from the "blurrish" edges produced by other video cards.
As for CPU utilization while viewing videos on the 8300, it usually ranges from 0 to 4% for DVD movies and 7 to 15% with high definition movies in the WMV9 format.
XGI's deinterlacing technique does not require any special software or anything, it works out of the box with any media player, be it Power DVD, Win DVD, Zoom Player, etc. All you need to do is make sure you enable "Hardware video acceleration" in your media player.
Final thoughts
The Volari 8300 is a very interesting piece of hardware for the value market. It may not be the fastest mainstream card available, but then again it does not make much sense to look for the "fastest card" when looking at entry level cards. Talking about pricing, XGI suggested price for this product is only USD 49.95, below the current market price of both the Radeon X300 SE HyperMemory and the GeForce 6200 TurboCache. The Volari 8300 performance is good, and is more on less on par with the X300 SE.
A point which is very important is image quality, and the Volari 8300 did not disappoint. Image quality is excellent, 2D and videos are surprisingly clear and sharp even in high resolutions, better (clearer and crispier) than the X300 SE in my opinion.
Video playblack certainly is one of the strong points of the Volari 8300, not to mention it has an ace up its sleeve which makes it a very tempting option for home theater PCs : the TrueVideo engine for hardware accelerated video enhancement. The video quality obtained is impressive, making the card ideally fitted for home cinema PCs. The card also provides native support for HDTV content up to 1280x720p. The home theater crowd will certainly benefit from the 8300′s video engine.
In comparison, neither ATI nor nVidia offers such video enhancements in their entry level product, leaving the 8300 without any competitor. Radeon X300 doesn't have this feature at all, only the new Radeon X1300 (but this video card is in the $100 USD range, double the price of the 8300) and upwards have these important features. The Geforce 6200 has some of these features, but it lacks features like 3:2 Pulldown bad-edit correction and Inverse Telecine. More importantly, to enable support for video enhancements on the Geforce 6200, you need to buy a decoder software from nVidia that costs between USD 19.95 and USD 49.95, depending on the version.
At the end of the day, XGI has produced a very capable and competitive value offering in the Volari 8300. It may not be the fastest low-end gamer on the block, but is certainly the only one that will offer the best video image quality and HDTV display right out of the box.